We are Hearing to Much Nowadays about Reliance Jio 4G and Free Reliance Jio 4G SIM Card, We have seen long queues against Jio Stores All Over India. Lucky Those Who have got The Jio Sim in First Round And Enjoyed Free Jio Welcome Offer as Well as Enjoying Free Jio Welcome Offer. Unlimited Jio 4G Speed At its Best. As well as Reliance LYF Phone Users, Yes Now They Can Increase LYF Phone warranty Upto 2 Years till 31st December 2017 To enjoy The Full Reliance Jio 4G With Free Calling With VoLTE Feature.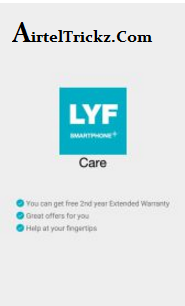 If You Want to Buy LYF Phones Or Any VoLTE Enabled Phone Then its Best Chance To buy as There Are Many More Online Shopping Portals Running Diwali sale
By VoLTE enabled Device You Can Enjoy Free Unlimited Calling Life Time
Here is How To Increase Free Jio SIM Lyf Phones Warranty Upto 2 Years :
1. First of All Just Download The LYF Care App From
Playstore
2. Now Just Open This Official Jio App And You have to fill Out all details As Described Below
3. In The Warranty Section You have to upload scanned bill Of Your Purchased LYF Device
If the LYFCare app is installed on your smartphone :
register your details using these quick steps:
• Key in your customer details –name, address, mobile number, Invoice number, date of Invoice and Invoice Value.
• Alternatively you can scan your Aadhaar card through which some of the details would get automatically filled.
• Upload a photograph of your invoice.
• Accept the Terms and Conditions of The LYFCare Extended Warranty.
If you do not have the LYFCare app installed on your LYF phone :
you can install the app in one of the following ways:
• By clicking the link you have received on SMS.
• By downloading the app from Google Play.
• If you have any queries or need any support related to registration of the LYFCare app, you can call us on our tollfree helpline 1800-890-9999 or write to us at care@mylyf.com
• After Verifications Of Your Documents Your JIO LYF Phone Warranty Will Be Increased Upto 2 Years
Done !!