Hello AirtelTrickianz, Most of you must be knowing about the
TasBucks Mobile App
- We Tested it and Comes to know that it Really pays - Many Users Say it Fake . This Post is to clear their Doubts. Have a Look to this app and must try it .
You can redeem your Taskbucks Earning via Paytm Cash / Mobikwik Cash or Via Recharges. Once you Reached Rs.20 which is the minimum Payout . Offers are much better of Taskbucks with Maximum Payouts.
Update
- Now get Rs 20 bucks + 20 MB Data for 1st invite in a day, Rs 30 + 30 MB Data for 2nd , you get Rs 40 + 40 MB data per every friend after that for that day.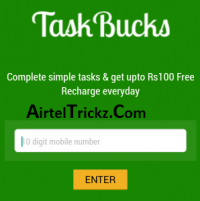 This app Is Even Claiming that it will give Rs.20 Free to Users who uses a Referral link to join - But We Tried 2 Times and was Unsuccessful Each time.
Referral Code - "
KPABBZ
"
Referral Criteria :-
• Refer 1st friend - Rs.25
• Refer 2nd friend - Rs.30
• Refer 3rd friend - Rs.40 + Additional Rs.75
How to Earn Paytm Cash / Mobikwik Cash / Recharge from TaskBucks ?
1.
Download TaskBucks App From Here
.
2. Open the app, enter your mobile number, email and Refferal Code - "
KPABBZ
"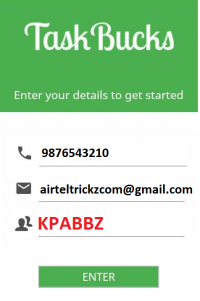 3. click on "ENTER" and Verify your number
4. Now your account will be created and you will see various offers of downloading apps like amazon, goibibo, cleartrip etc . Also you can see the amount you will get for downloading these.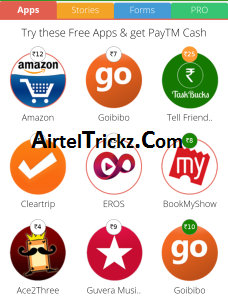 5. Click on any app you want to download. There will be a set of rules written. Read them carefully. Download the app and open it for several minutes as was mentioned in the rules.
6. Now go back to taskbucks app and you will get your reward added to your taskbucks wallet.
In this way, you can install many apps and earn a lot of Paytm Cash / Mobikwik Cash / Recharge !!
7. If u Have any queries Contact :
wecare@taskbucksapp.co.in
How to Refer and Earn ?
Well in above steps we told you how to download apps and earn. Now taskbucks is also offering a refer and earn program in which you will get Rs.25 as Referral Bonus + Rs.30 + Rs.40. Refer your friends and Get Rs.25 when your friend completes an offer in Taskbucks + Also Get Rs.75 Extra if you refer atleast 3 friends in a day!.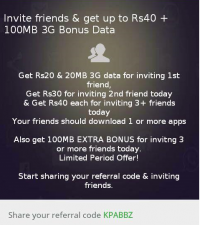 1. Click on top left icon
2. Click on "
Invite & Earn
" option
3. Here you see your special referral link
4. Copy this link and spread it among your friends
5. Once your friend clicks on your link and downloads taskbucks app and completes 1 tasks, you will get ₹25 worth Paytm Cash / Mobikwik Cash / Recharge credited to your account
>> You can redeem your taskbucks money for Paytm Cash / Mobikwik Cash / Recharge by clicking on "
My Bucks
" option
Enjoy !!
Proof :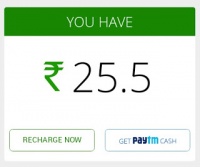 (Brand New Trick)
How To Use This Trick To Loot Taskbucks App :
Requirements For This Taskbucks Trick
> Rooted Mobile
> TaskBucks App-
Click Here
> Fake Text SmS APP -
Click Here
> Android Id And IMEI changer
> Textra SMS from Here-
Click Here
Here start The Taskbucks Fake SMS Trick
1. 1st of all Complete the above mentioned steps For Taskbucks If You Are New Users . Now
Note Down Your Refer Code
2. Now its Time to FORCE STOP TAskbucks app And Then
Change IMEI and Android ID of Your Device
3.
Now uninstall taskbucks, go to settings / accounts and add another google account and download taskbucks app from new account from play store. (Not compulsory for those who are not getting "something went wrong" error during new registrations)
** Real Taskbucks SMS bypass Trick Start from here **
4. Create A New Contact In Your Phone With Name and Number Like Below
For e.g :-
Name :- DZ-TBUCKS
Phone Number :- DZ-TBUCKS (Would be Different Everytime)
>> Hey Wait i know You are unable to Save contact without numeric letters on Phone Number...Now what you need Is A
OTP SMS from TaskBucks Like Below which you had get in previous time while making any taskbucks account
.

- Now Download An App Called
Textra
from Here-click Here (if already downloaded then ignore)
- Now Open Textra App Then Navigate to
Your messages
and select
TaskBucks OTP sms
>> Now Click On " vD Sign " On Top Right corner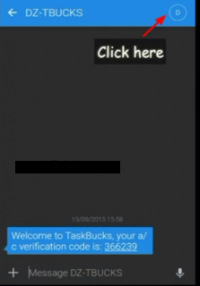 >> Then Click On
create New Contact
(SIGN IS IN TOP RIGHT CORNER) In Textra App
>> You can see Mobile Number like
DZ-TBUCKS
There...copy same In Name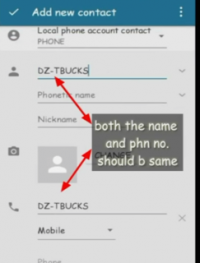 5. Now Open Taskbucks and You Need To enter
Fresh Mobile Number
in TaskBucks And Put Your Refer code Or Put This-
KPABBZ
And submit.
6. Now, Just
Open Fake Text Message
App.
7. Just Choose The Contact, You Created With DZ-TBUCKS Name.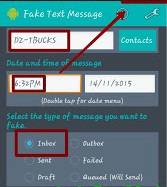 8. Now Choose
Time 1 Minute More Than the Present Time. Put The OTP Message
Which you have Recieved in New Entered Mobile Number. And Choose Inbox option**
Enter True OTP
**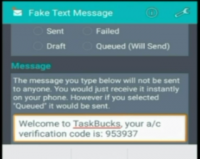 9. At Last Just
Click On Fake.
10. Bingo...!! You have Bypaased Auto verification Process.
( If you face any error like " something went wrong then step 3 is compulsory for you. )

[ If you are still getting error of " something went wrong " then just download phone id changer app [ CLICK HERE ] (requires xposed module installed) then change all values from that app and try again...and you have to change these values after every refer ]

[ And after that if you are getting error then change all values from donkeyguard..change ur android id , device id , phone no , sim serial no and again check ...its 100% working ]

[ if you use phone id changer or donkey guard and it getting succes after every referal then you will not need to add another gmail account everytime ]
11. Now To get the Fast Credits just Download ViralShots App From List or You can use Backup Apk For it to save data
12. Repeat Above All Steps for Taskbucks Unlimited Earn
Trick : 2
Requirements:
(install following in Bluestacks and Android)
• Rooted Android mobile
•
Titanium Backup Pro app
• PC with 2GB RAM
•
Rooted Bluestacks
•
BsTweaker
•
Es File Manager
• Brain
Part 1 for Mobile Users :
1.
Download TaskBucks app from here
.
2. Open the app, enter your mobile number, email and Refferal Code - "
KPABBZ
"
Note:
Friends Every Time Use New Gmail in Google Playstore (
for multiple Taskbucks a/c
)
3. Enter your Unregistered Number and Get Verified.
4. Now Open Titanium Back Pro [root] App and Make a Backup for Taskbucks App
Part 2 for PC Users :
Now you Need to Transfer it (Titanium Backup Folder) to PC
5. Transfer/Or Copy your Titanium Backup Folder from Mobile to PC>LOCATION IS
C:\Users\UR PC\Pictures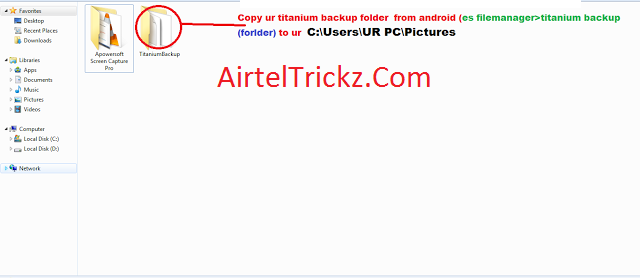 6. Now Start Bluestacks & Open Es File Manager and Goto -
Windows/Picture/ Titanium Backup Folder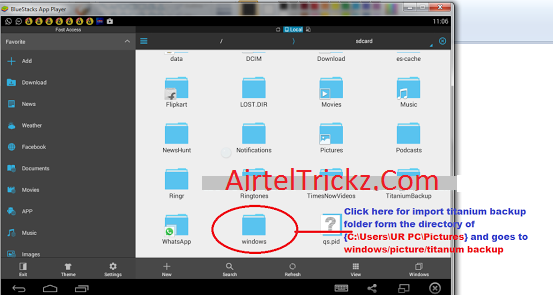 Now Select This Folder from
Windows/Picture/Titanium Backup Folder
and Click on Copy and Paste is to -
Es File Manager Main Window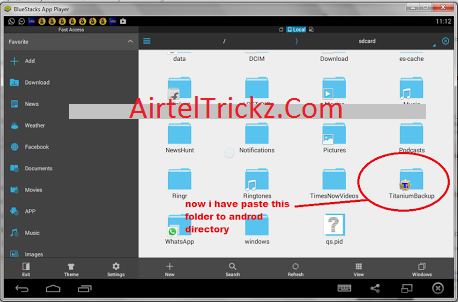 7. Now Open
Titanium Backup
App Click on Restore /Backup and Search for
Taskbucks Backup
and Click for Restore It.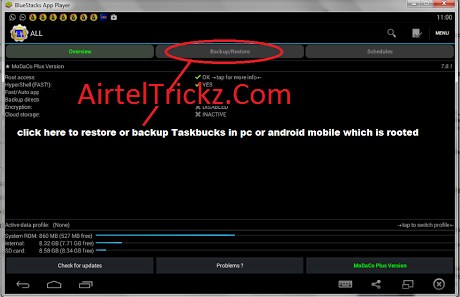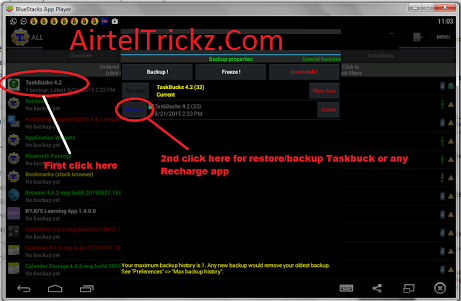 8. Now Open Taskbucks App
9. Ooohh You found What ??
10. It is Working.. Without Any Verification :)
11. Now You can use any recharge app via this exclusive method
12. Enjoy the trick of use any recharge app in Bluestacks
For Android Mobile Use
1. I Think you already have your Refer Link of Taskbucks :)
So change Gmail ID every Time before you going to Download through your refer link
2. Just Open your Referral Link in browser - Install and Get Verified
Dont download Any App
(Important)
3. Use Method 2 for Transfer it to Bluestacks for detail scroll up and read carefully
For PC Use
(
Imp-
Keep same Gmail ID in Bluestacks by which you download Taskbucks before in Android)
4. Just Restore Taskbucks App and Open it
5. Complete any Task to get your Referral Money in Old Account 6. Enjoy
OR
Trick : 3
For PC Users:
Requirements :-
Rooted Bluestacks -
http://bit.ly/1M6qKWg
BS-Tweaker -
http://bit.ly/bluestack_tweaker
Around 7 Different Browsers Installed in BS :-
1.
Opera Mini
3.
Firefox
2.
UC mini
4.
CM Browser
5.
Maxathon Browser
6.
Super Fast Browser
7. One Will be Your Default Browser.
P.S.
For Safe Side you can download one more browser (If you are not getting credits) -
Google Chrome
or any other.
Taskbucks App in your Mobile Device -
Download Now
Open the app, enter your mobile number, email and Refferal Code - "
KPABBZ
"
How To Get The Offer :-
1. Firstly Download Taskbucks Mobile app -
Click Here
2. If you already have Skip above Step . New Users Simply Sign up .
3. Now Visit "
Stories
" Section and Share any of the Post.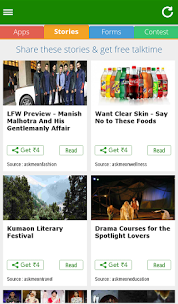 4. Copy the Shared Link and Open Bluestacks.
5. Install all 5 / 4 Browsers and Visit copied Link from all of them.
6. Instantly you will Get Rs.5 In Taskbucks.
7. Now Clear Data of all your Browsers in Bluestacks.
8. Run BS-Tweaker as Administrator now Change
GUID , Android ID and Google Advertising ID
(All three of them).
9. Restart Bluestacks and Again Do same Procedure again and again.
TIP :
While copying your link don't use Whatsapp .You can use Message option and get that link. If you are using Whatsapp then make sure you don't send links again and again to same friend.
Here's BS Tweaker - Change the Following things :-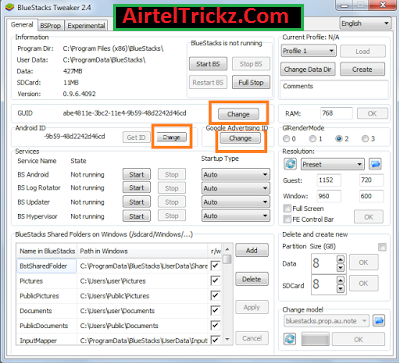 Below We have added some proofs too. Trick is tested by us and is 100% Working.
For Mobile Users:
1. 1st of all if you haven't Download
TaskBucks App
in your Smartphone
2. Search "
Browser
" in play store and download any 5-10 browser.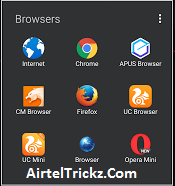 3. Click on "
Stories
" tab of taskbucks.
4. Click on "Share to get ₹ X" of any story (Where X=4/5)
5. Now click on whatsapp icon to share on whatsapp.
6. Now click on the group in which u r alone. (
u can easily make this type of group - 1st make group of two and then remove another person
.)
7. Now click on the link and open it 5-6 times in different browsers.
8. U will get notification in 1 minute that u have completed the offer and u have been rewarded.
9. Now follow 3 to 8 steps for other stories and u will manage to get upto 10 Rs. Everyday via this trick.
Proof Of Working :-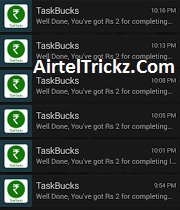 OR



Trick :4
Now It's time for the Unlimited Trick :
For this Unlimited Trick you need Unlimited SIM Cards for Registration, Rooted Mobile Phone, IMEI Changer App & Android ID Changer App
1. Download IMEI Changer from
Here
2. Download Android ID Changer from
Here
How to Loot TaskBuck App :
1. 1st Install Taskbuck App from Playstore -
Click Here to Install
.
2. Open the app, enter your mobile number, email and Refferal Code - "
KPABBZ
" & Wait for the Automatic Verification.
3. Now Install 1 App from the Listing to get Paid.
4. After that, Click on the Referral Option & Note down your Referral Link.
5. Now Uninstall Taskbuck & Change your Android ID & IMEI No.
6. Paste the Noted Down Referral Link & Install Taskbuck again.
7. You need to Register with a Different Mobile No. this time.
8. As many SIM Cards you have, you'll get ₹25 per referral + Extra ₹75 for 3 referrals in a day for Each SIM Card.
Tags : Taskbucks,taskbucks offer,free recharge,recharge,articles,free,Share and earn,download and earn,offer