Here is an awesome trick by which you can run two account of almost every app from a single device .tired of log in and log out dont worry then this trick is for you..just read carefully below steps and run multiple account in one device.parallel app has sort out the problem by its app where user has no more to hassle for running multiple accounts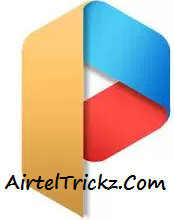 What Is Parallel Space ?
Parallel Space is an Android app that allows you to run multiple accounts of any app simultaneously on single Android phone. With parallel space, you can create the dual account of any app. Like you can install two Whatsapp, two Instagram, two Facebook, two Snapchat and multiple accounts of any game.
Does Parallel Space Require Rooting ?
No, You do not need to root your phone. It's a simple 2MB app that you can install from play store. Even it does not require any permission. Only the app install it may ask for permission. It's a safe process and you can create multiple accounts of any app in just 2 minutes.
Features Of Parallel Space
• Run Multiple Account Of any Android App
• Small Size : 2MB Only.
• Separate Task Manager to Manage apps running in Parallel Space
• Storage Manager to Manage App Data
• Switch with Swipe option.
Steps To Follow :
1. First Download and Install The Parallel Space app from
Play Store
.
2. Now Open The Parallel Space app, tap on the + icon.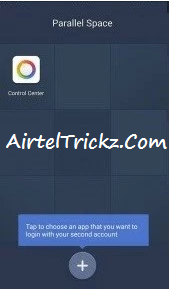 3. Now A List Of App Installed On Your Phone Will Be Displayed.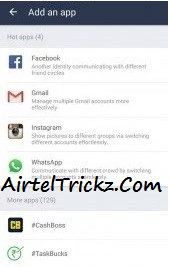 4. From The List Select The App Which You Want To Copy.
For Example :
if you want to open 2 whatsapp account in a single phone then click on Whatsapp icon.
5. Now setup your WhatsApp with new account credentials.
6. That's it you have successfully installed two accounts of Whatsapp.
7. You can swipe to switch parallel space. Just go to settings and turn on Swipe to Parallel Space.
* You can use similar steps two create the dual account of any app. I found it to be one of the best apps to create multiple accounts. *
Suggestions :
Dont go for app like paytm, ola, uber as it may lead to ban your account.
How to Access Contacts in Parallel Space Whatsapp
• First Of all Update your Parallel Space app.
• Now Try to access contacts through Whatsapp app. It might ask you to give Parallel Space permission to access your contacts.
• If still, you are unable to get Contacts, Just got to your app permission menu. Then allow Parallel Space to read your contacts.
• Then Switch back to Parallel Space Whatsapp and check you will surely get all your contacts there.