Every morning, when your kids go out to school or to play, the deadly Dengue mosquito follows them around. Unfortunately, the Dengue mosquitoes thrive during day light, just when your child is away from your watchful eyes! What can be done? It is clinically proven that Odomos offers the most effective outdoor defence against mosquitoes for as long as 12 hours. So what are you waiting for? Don't let your child be a victim.Use Odomos and give him the ultimate protection against Dengue!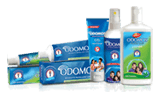 How to get this sample:-
1-
Visit Here
2- Click on "
Get a Free Sample
"
3- Enter Your Name, Phone No, Gender,Email, Postal Address, and Age.
4- Click on "Submit"
5- Thank You
FAQ'S-
For FAQ's-
Visit here