Do you like Khakhras? Khakhra comes with a special flavors which you definitely like most. Today chefgrillfood is offering a free sample of Chef Grill Khakhra to their customers. So hurry and grab it fast before expire.
Note: "To get the free sample of Chef Grill Khakhra, You must like the chefgrillfood facebook page first before filling the form."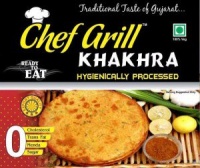 How to avail this offer?
1-
Visit here
for chefgrillfood facebook page
2- Like this page
3-
Now Visit here
to get a free sample of Chef Grill Khakhra
4- Enter your full details like-Name, Gender, Age, Complete Address , Phone no, Email-id and Your Facebook profile Page address.
5- Click on " Submit"
6- Done
Description-
1-Low Fat, Dairy Free,
2-No Added Sugar,
3-Suitable for Diabetics
Terms & Conditions:-
1- Free sample of Chef Grill Khakhra will be sent to only those customers who will like the facebook page of chefgrillfood and submit their details in the Google form.
2- Only one sample will be sent to each facebook Profile Users.